by JeffreyWettig | July 26th, 2021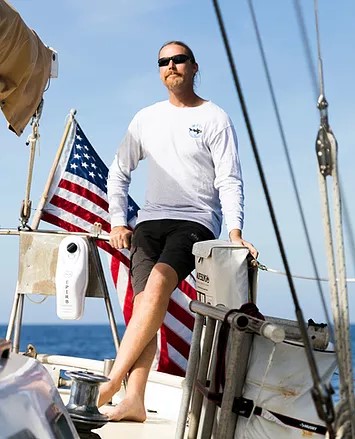 Greetings Sailing Podcast Fans. This Episode was a fun one to produce and a great time IRL. I had the pleasure of catching up with former guest Capt. Ryan Rayfield aboard the spectacular Sailing Vessel Libra, a 60ft Bill Tripp designed Ketch while they were on a stopover in Baltimore at Anchorage Marina in the Canton neighborhood, all thanks to a recommendation by our buddy Marcus Assante. I was able to take a tour of the boat and hang out with Capt. Ryan, his buddy Nick, and their kids on a lazy hot afternoon.
We first chatted with skipper Ryan back in 2016 as he was beginning his offshore adventure charter business on Libra out of his home port of Orange Beach Alabama, where he also had a day charter business. Since then he has been on the move on board Libra, having done an Atlantic Circle, and spent a long time in the Caribbean. Now they are plying the waters of the Eastern US Seaboard until Hurricane season is over, before heading back south to the Islands. Libra is a fine ship, and I endeavor to be a guest sailor aboard her sometime down the line.
Nick Cantrell has some great stories to tell as well. He is an artist from the Orange Beach area, and has been aboard Libra several times on some great passages.
I hope you enjoy listening to this as much as I enjoyed being there, and you all should consider S/V Libra in your offshore adventure plans! Thanks so much to Capt. Ryan, Nick, and the kids for hosting me
You can find the episode in Podcast apps, stream it below,
or Download The Shooting The Breeze Sailing Podcast, episode 143 by right clicking on this link.

Intro Music by yours truly and Greg Young, of The Incoherents, a band I managed in college. The song is called Never Tell and is available via email. Find the other songs they did at The Incoherents. The Lean Years Volume 2, on Itunes.
Break music, "Wild Winds of Misfortune" by Leo Disanto of The Vinegar Creek Constituency, and "The Wild Rover" as performed by The Ogham Stones
Support the Podcast on,