by JeffreyWettig | September 16th, 2022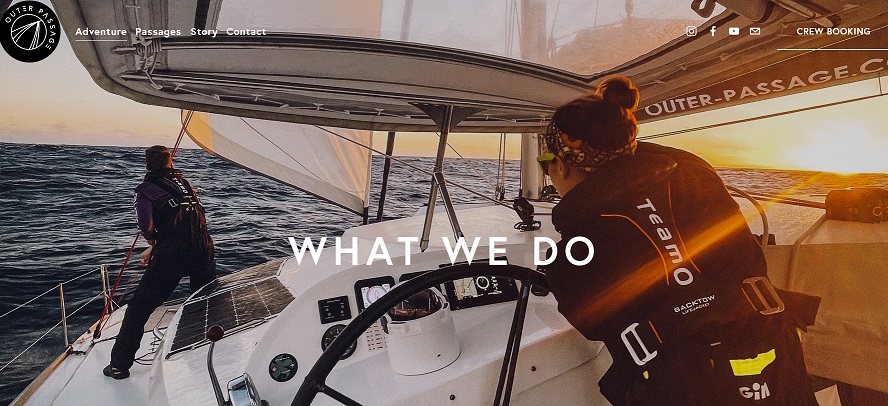 Amanda and Darren Seltzer, formerly of Sailing Panda on the YouTubes, are now proud new owners of an Adventure Charter Business called Outer Passage and a performance Multi-Hull Neel 45 Trimaran, and they are looking for new guests to come along for the ride!
The last time we spoke with them, they were holed up in Belfast aboard Panda, an Amel Sharki 39, which they subsequently sailed down through the UK, France, Spain, and Portugal, through the Gibraltar Straits, the Med, into Albania, and ultimately Venice, where they sold the boat and conjured up this new project with the help of Darren's Brother.
After purchasing the new Trimaran, they sailed it across the pond, did some work, had a homecoming after more than 2 years, sailed up the US East Coast to Maine, and are now in Newport for the Boat show! They are also planning on heading to the Chesapeake Bay before showing up at the Annapolis Sailboat Show in Mid-October. They will be offering Rides!!!!
You can listen to Episode 158 of the STBSP, by right clicking and downloading here,
You can find it on all your favorite Podcast Apps and Aggregators
or push play on the embedded link below.
Intro Music by yours truly and Greg Young, of The Incoherents, a band I managed in college. The song is called Never Tell and is available via email. Find the other songs they did at The Incoherents. The Lean Years Volume 2, on Itunes.
Break music, "Wild Winds of Misfortune" by Leo Disanto of The Vinegar Creek Constituency, and "The Wild Rover" as performed by The Ogham Stones
Support the Podcast on,