by JeffreyWettig | May 26th, 2023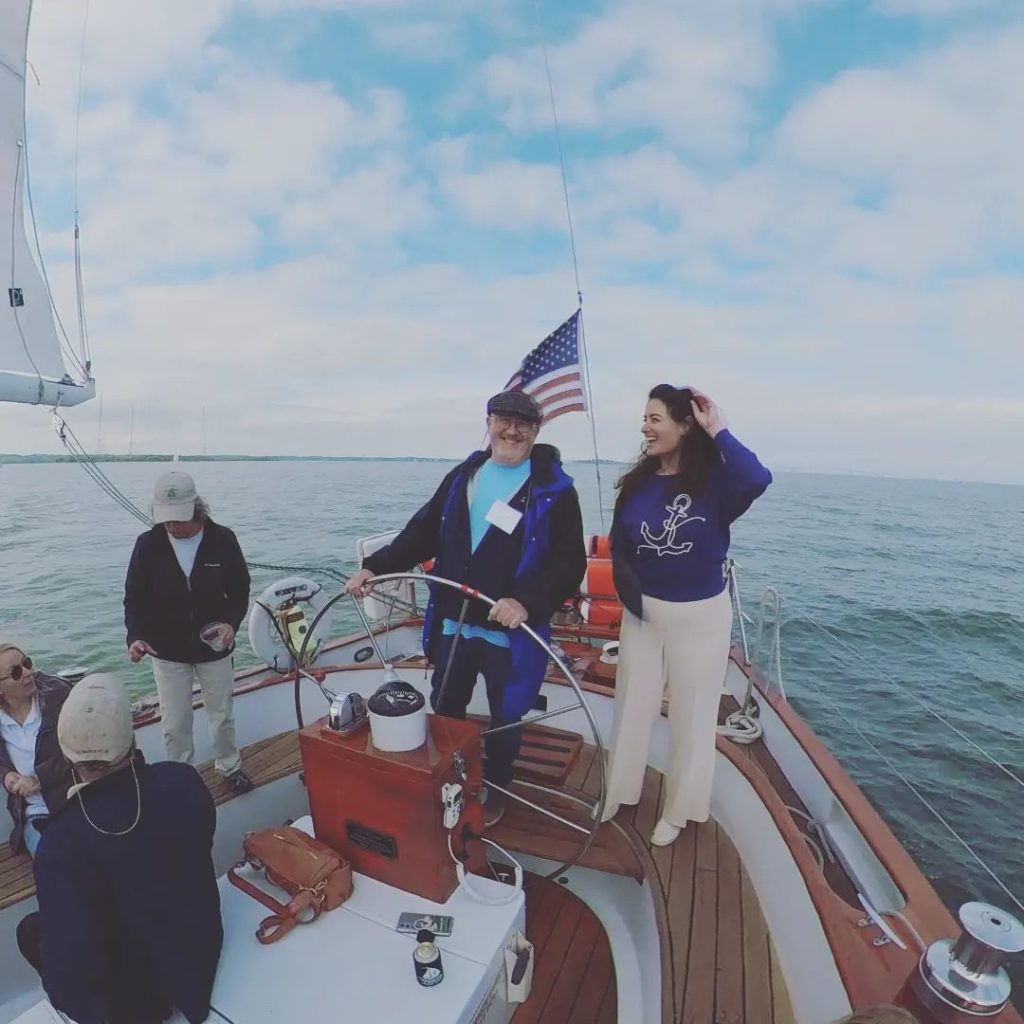 So we had a little mishap at the Annapolis Spring Sailboat Boat Show. My recorder went for a swim in the UGO Wear waterproof bag Dunk Tank as I was finishing up an interview with them. It worked, for the next two minutes…….. Then stopped working. It faked me out as I did two more interviews, one with Rudolph Alp from luxuryyachtportraits.com, who will do a fine aft, draftspersons custom portrait of your boat. The other was with our buddy Marcus Asante from Red Beard Sailing, who was there with the new Astus 20.5 Trimaran. Later that afternoon, it stopped working entirely, so I missed out on other interviews as we went sailing on the Schooner Woodwind with Captain Boomies, Ryan and Sophie, Matt and Jessica, Dave Gendell, and others on a "Sailing with Youtubers" afternoon sail, which was a great time out on the water, on a day that was surprisingly rain free.
In the evening, there was a Boaters for the Bay event held by the boat show, which featured presentations by Biosafe Solutions, The Coastal Conservation Association, The Chesapeake Bay Foundation, and the Chesapeake Conservancy. They talked about all of the efforts each organization are undertaking in saving the bay from pollution and overuse, both via Legislation, and projects on the ground.
So to keep you guys from having to listen to me recap the boat show all by myself, and having to listen to me drone on and on and on, Nora and I sat down via Zoom with Captain Boomies, so you can listen to us drone on and on and on about the boat show.
Actually it is a fun conversation about becoming Interwebs Famous for sailing and boating, and all the boat shows and event hosting opportunities she has had over the past six months. We also recap our day at the Spring Boat Show. Enjoy!
You can listen to Episode 167 of the STBSP, by right clicking and downloading here,
You can find it on all your favorite Podcast Apps and Aggregators
or push play on the embedded link below.
Intro Music by yours truly and Greg Young, of The Incoherents, a band I managed in college. The song is called Never Tell and is available via email. Find the other songs they did at The Incoherents. The Lean Years Volume 2, on Itunes.
Break music, "Wild Winds of Misfortune" by Leo Disanto of The Vinegar Creek Constituency, and "The Wild Rover" as performed by The Ogham Stones
Support the Podcast on,