by JeffreyWettig | May 16th, 2022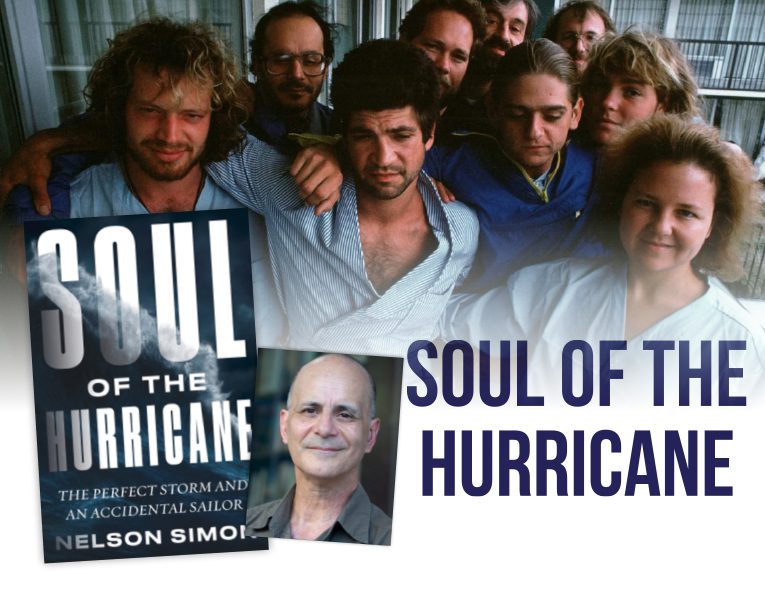 Greetings Podcast Fans! This episode of The Shooting The Breeze Sailing Podcast (STBSP) we chat with Author and Storyteller Nelson Simon about his book "Soul of the Hurricane, The Perfect Storm and an Accidental Sailor."
Nelson isn't a sailor as you would imagine a survivor of a failed Sailboat Delivery during the beginnings of The Perfect Storm would be, hence the Accidental Sailor bit. He just didn't know how to say no when roped into the trip by his buddies, and had just the right kind of experience the delivery Captain was looking for. Thus he was now part of a nine person crew delivering Adventurer Norman Bakers Family wooden schooner Anne Kristine, a 126 year old, refurbished Norwegian built ocean going almost Tall Ship, from Brooklyn to Bermuda in late October of 1991.
The First day was great sailing, the kind you spend years chasing after as a sailor. The next day, not so much. Things deteriorated quickly as Hurricane Grace formed south of Bermuda and heading west towards the states. Within another day they would flounder and call for rescue, enduring a harrowing 30 plus hours of pumping water ingress out, and trying to save the ship.
We will let Nelson tell the tale during our conversation, but it is best if you read it for yourself by adding his book to your sailing book collection. It is a great read which details Nelson's experiences with Hurricanes, Norman Bakers escapades in adventure, his families rehab of the boat, and ultimately the rescue and aftermath of The Perfect Storm.
You can purchase the books using one of these links or look for it wherever you buy books.
Amazonhttps://tinyurl.com/SouloftheHurricaneAmazon
Book Depositoryhttps://tinyurl.com/SouloftheHurricaneBD
Also at the end I put a Sea Shanty by Nathan Evans and members of the US Navy Band as a shout out to the efforts of the US Coast Guard and US Navy that helped in the rescue of Nelson and His crewmates. You can find the Youtube video of the song here.
You can find the episode in Podcast apps, stream it below,
or Download The Shooting The Breeze Sailing Podcast, episode 154 by right clicking on this link.
Intro Music by yours truly and Greg Young, of The Incoherents, a band I managed in college. The song is called Never Tell and is available via email. Find the other songs they did at The Incoherents. The Lean Years Volume 2, on Itunes.
Break music, "Wild Winds of Misfortune" by Leo Disanto of The Vinegar Creek Constituency, and "The Wild Rover" as performed by The Ogham Stones
Support the Podcast on,